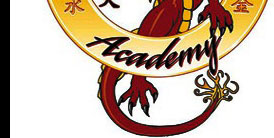 Our instructional videos are designed by Shidoshi (T.J. Gjertson) to help you build and strengthen your self-defense skills, achieve your fitness goals, and develop yourself physically, mentally and spiritually.
Note: Exchanges permitted with same product only. DVDs are not refundable if seal is broken.
All DVDs are now $19.95 each + s&h...save $10 each!
Self Defense Course Volume #1

The Mystical Red Dragon Walking Stick

Instructed by Shidoshi (T.J. Gjertson)

Approximate run time: 40 minutes

Learn self defense techniques in blocking, tripping, hooking, and controlling an opponent using a common walking stick. This method allows you to carry an ordinary looking object, such as an umbrella or cane, that can serve as a very effective defensive weapon, without appearing to be carrying a weapon.

Price: $29.95 ea.

Economy Special Price: $19.95 each!

(+ $4.00 USD s/h)

Instructed by Shidoshi (T.J. Gjertson)

Approximate run time: 30 minutes

Tiger Broad Sword is an intermediate close-range kata form used for public demonstrations and in competitions, awarding points for such aspects of technique as style, balance, timing, and verisimilitude (appearance of being real). Learn combinations of techniques in a safe practice environment that will help you to defeat your opponent.

Price: $29.95 ea.

Economy Special Price: $19.95 each!

(+ $4.00 USD s/h)

Volume #1

Instructed by Shidoshi (T.J. Gjertson)

Approximate run time: 30 minutes

Would you like to expand your self defense skills? Learn to protect yourself against many different types of attacks, as well as multiple attackers, while improving balance, coordination, speed, endurance, agility and strength. Training includes proper stance, submission holds, balance, footwork, and timing.

Price: $29.95 ea.

Economy Special Price: $19.95 each!

(+ $4.00 USD s/h)

Instructed by Shidoshi (T.J. Gjertson)

Approximate run time: 60 minutes

Proper warm up is essential to any successful training session. Get your body ready for action with our latest DVD, featuring basic warm up exercises, combination punching techniques, knee-ups, exposive hand techniques and much more.

Price: $29.95 ea.

Economy Special Price: $19.95 each!

(+ $4.00 USD s/h)

Volume #1

Instructed by Shidoshi (T.J. Gjertson)

Approximate run time: 60 minutes

This video will help you build endurance, strength, flexibility, cardio conditioning, and proper placement of your hands and feet in combination with body movement. This kata will help you build a great foundation for your martial arts journey. All the key points are explained and demonstrated in these kung fu animal stances. A must-see video!

Price: $29.95 ea.

Economy Special Price: $19.95 each!

(+ $4.00 USD s/h)

Volume #1

Instructed by Shidoshi (T.J. Gjertson)

Approximate run time: 60 minutes

In this powerful video, you will learn the proper body mechanics to master basic kicks to our all-out devestating explosive kicks that will cripple any attacker and stop them in their tracks. Let us help you perfect your kicking skills! As a bonus, you will learn our Ghost Fighter Shadow Kick, so order today!

Price: $29.95 ea.

Economy Special Price: $19.95 each!

(+ $4.00 USD s/h)